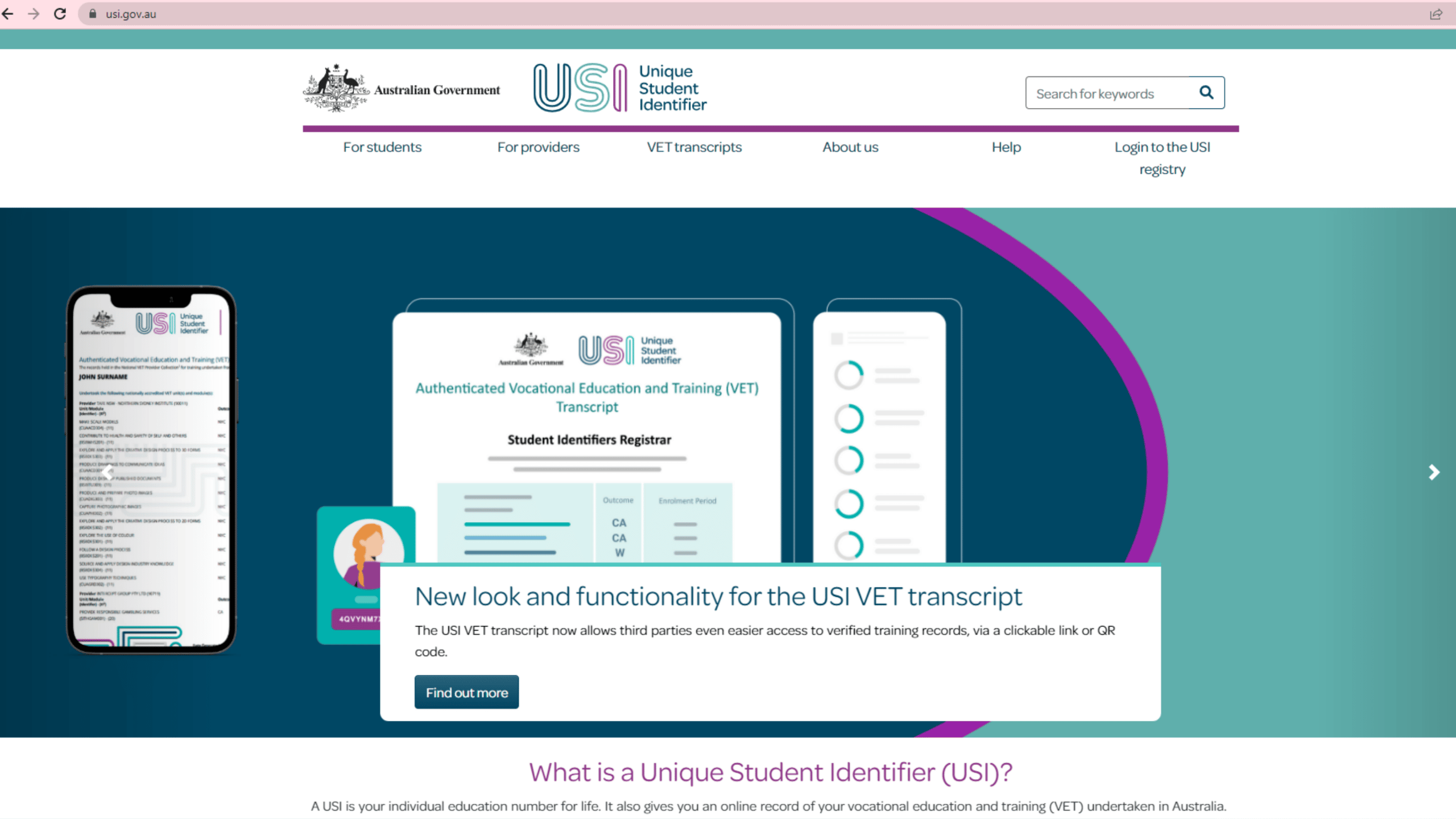 Unique Student Identifier (USI)
What is a Unique Student Identifier (USI)?
A USI is your lifelong education number – you only need to create it once.
You can create your USI in the Student Portal. 
Already have a USI?
If you have undertaken any vocational education and training (VET) since 2015, you may already have a USI. Find it now.
Identification requirements:
You need one form of identification to create a USI.
Acceptable forms of ID:
Using Digital Identity to create your USI
Would you like more choice in how you prove who you are online? You can help us make online government services easier to access.
Create your USI with a Digital Identity
How to get a USI
Getting a Unique Student Identifier (USI) is quick, easy and free. Follow the steps below to create your USI.
1. Have a valid form of ID (we accept many forms of ID. If you do not have one of these forms of ID contact your education or training provider for assistance).  
2. Go to the USI Registry System. 
3. Agree to the terms and conditions (if you have previously agreed to the terms and conditions, you might not see this step). 
4. Select Create USI 
5. Select your evidence of identity document (see the types of ID you can use).  
6. Enter your personal details exactly as they appear on your form of ID. 
 If the name you use for business or official purposes is not the name on your form of ID, you can choose to enter this in the preferred name field.  
7. Enter your contact details, including at least two contact methods.  
8. Confirm your identity. The USI Registry System will check and confirm your identity using the 'Documentation Verification Service' (DVS).   
9. Secure your account with a USI password and check questions. 
Next Steps
Your USI will now be displayed on the screen and will be sent to you for your records. Keep it somewhere safe – it's your lifelong education number.
Sharing your USI with training or education providers
Your education or training provider will need to collect and verify your USI. To help them do this, you can print or email your USI verification details from the final screen.
You can also give access to providers to view and/or update your USI account and view your VET transcript. Providing access to your USI account and VET transcript might help your provider to process your enrolment.