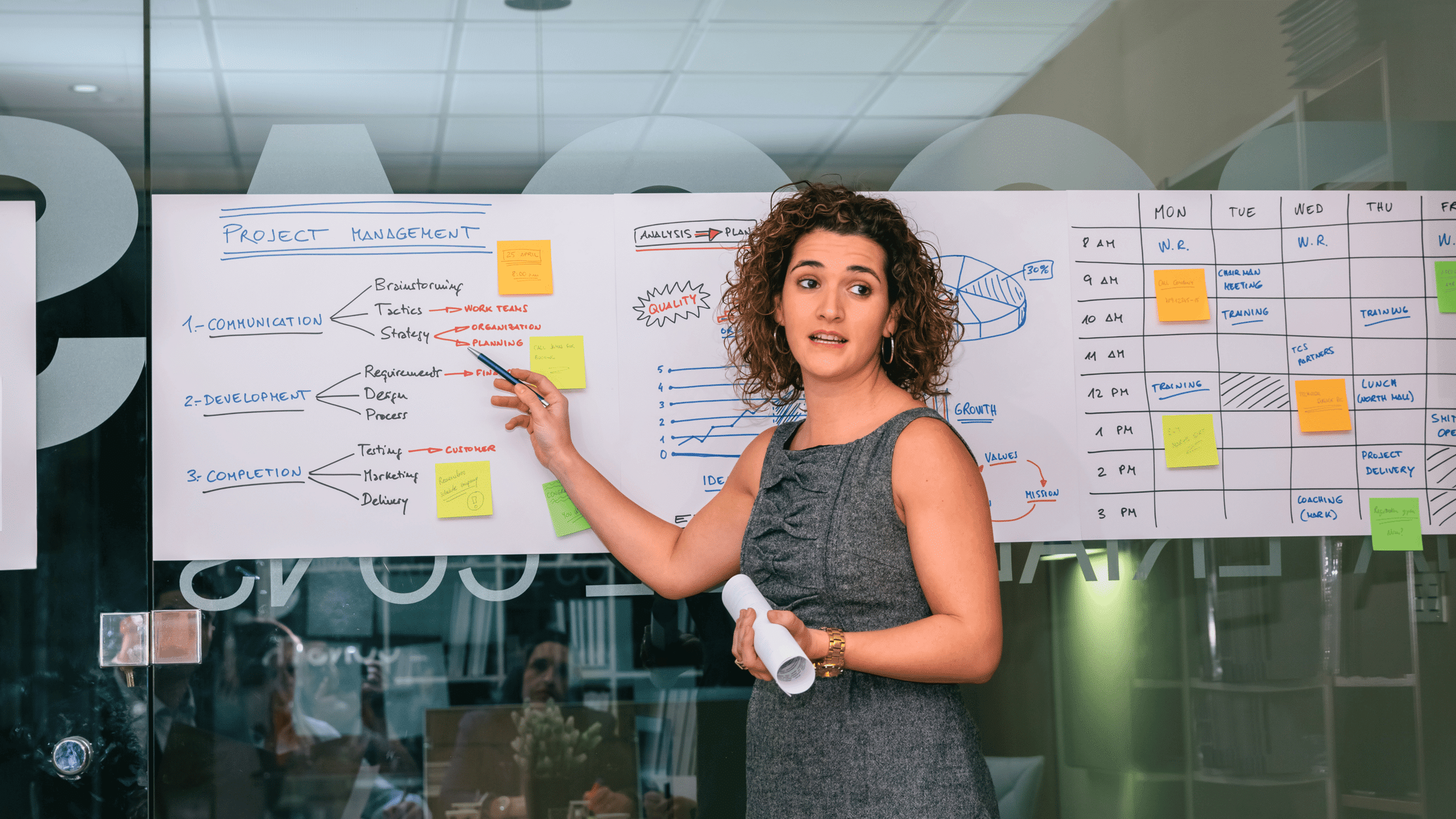 BSB50820 Diploma of Project Management
CRICOS Course Code: 112361K
Course Outline
This qualification reflects the role of individuals who apply project management skills and knowledge in a variety of contexts, across a number of industry sectors. The job roles that relate to this qualification may include Project Manager and Project Team Leader. Individuals in these roles have project leadership and management roles and are responsible for achieving project objectives. They possess a sound theoretical knowledge base and use a range of specialised, technical, and managerial competencies to initiate, plan, execute and evaluate their own work and/or the work of others.
Course Details
Delivery mode: Face to Face (20 hours per week)
Delivery site: Mezzanine 56-58 York Street Sydney NSW 2000
A face-to-face training mode is employed for this qualification. All classroom-based training will take place at the ABM Further Education's classrooms.
Duration: 52 Weeks (40 weeks of training and assessment + 12 weeks of holidays)
| | | |
| --- | --- | --- |
| Code | Title | Core or Elective |
| BSBPMG530 | Manage project scope | Core |
| BSBPMG531 | Manage project time | Core |
| BSBPMG532 | Manage project quality | Core |
| BSBPMG533 | Manage project cost | Core |
| BSBPMG534 | Manage project human resources | Core |
| BSBPMG535 | Manage project information and communication | Core |
| BSBPMG536 | Manage project risk | Core |
| BSBPMG540 | Manage project integration | Core |
| BSBPEF501 | Manage personal and professional development | Elective |
| BSBLDR522 | Manage people performance | Elective |
| BSBTWK503 | Manage meetings | Elective |
| BSBCRT511 | Develop critical thinking in others | Elective |
ABM will ensure students have access to a range of resources as required in the units and training package however students will be required to have access to their own computers (including software programs such as Microsoft Office), printers, internet facilities, and stationery resources. Students will also be required to bring their own device to each session ensuring it has connectivity to the internet.
Assessment is competency based. Students are required to complete written and practical tasks, which reflect the requirements of the units of competency and current workplace practices. Assessment is continuous throughout the duration of the course. Completed and submitted work will be assessed within ten (10) working days and feedback provided to the student as soon as possible thereafter. Where the student's work is assessed to be not yet satisfactory, he/she will be provided with additional advice, coaching or tutoring and the opportunity to re-submit the work with a view to having it assessed as satisfactory.rnrnFeedback and information regarding the student's competency, progress and study will be provided by the facilitator on a regular and ongoing basis. Ongoing support is also available to all learners and will be provided as soon as a need is identified.
u003cstrongu003ePackaging rules: u003c/strongu003ernrnEight (8) core and four (4) elective units are required for the award of the BSB50820 Diploma of Project Management. Units have been selected in accordance with the packaging rules and are relevant to the work outcome, local industry requirements and qualification level.rnrnThe latest release of the qualification and packaging rules can be found at the following link:rnrnu003ca href=u0022https://training.gov.au/Training/Details/BSB50820u0022u003ehttps://training.gov.au/Training/Details/BSB50820u003c/au003e
Students obtaining a 'competent' result for all listed competencies will be issued, by ABM, a nationally recognised award for the Diploma of Business. ABM will issue the Certification within 30 days of the student being deemed competent in all units they are enrolled in. Students, who do not complete the required 12 units of competency to achieve the Diploma, will receive a Statement of Attainment for those units that they have successfully completed.
To maximise the chance of students successfully completing their training, ABM will identify any support individual students need prior to their enrolment and provide access to that support throughout their training. This will be done using both the Enrolment Form, and a Pre-Enrolment Form, that students are required to fill in.rnrnThe aim of both documents is to provide any support that may be required. This could include:rnu003culu003ern tu003cliu003eLanguage, Literacy and Numeracy (LLN) supportu003c/liu003ern tu003cliu003eAssistive Technologyu003c/liu003ern tu003cliu003eAdditional Tutorials, and / oru003c/liu003ern tu003cliu003eOther mechanisms, such as assistance in using technology for online delivery components.u003c/liu003ernu003c/ulu003ernWhere this support attracts an additional cost to the student, ABM will make this clear prior to accepting the student's enrolment. If there are limitations to the support ABM is able to provide, these limitations will be made clear in information provided to a potential student.rnrnWhere ABM identifies required support, such as literacy or numeracy, English or other language barriers or physical capabilities, and it cannot provide such support directly, it will refer the student to a third party. The costs of such third-party support will the responsibility of the individual.rnrnWhere ABM is not capable of offering an environment suitable for the needs of a student with specific identified needs, it will inform them accordingly and may direct the student to a provider that can, and thus will not process their enrolment.
Project Officer
Project Coordinator
Project Manager
It is important that you inform and advise ABM, prior to enrolment, about any existing skills and prior knowledge and education, to ensure they can provide you with the appropriate structure and support during the course.rnrnCredit Transfer and Recognition of prior learning (RPL)rnrnCredit transfer is available for completed past studies in areas related to the qualification that participants plan to enrol in. Participants are advised of the process of applying for credit transfer and assisted by the Trainer / Assessor to apply.rnrnCandidates who believe they have already obtained current skills and knowledge that would otherwise be covered in the qualification / unit of competence for which they intend to attain, but have no formal prior learning, should apply for RPL at the time of enrolment. The candidate's skills and knowledge will be assessed and validated, and where appropriate, units of competency acknowledged, and face-to-face training reduced.rnrnThe recognition of prior learning procedure will be made known to you at the time of enrolment. If you can demonstrate competency through provision of sufficient, current, valid and authentic evidence of work experience, life skills, and study or via other evidence, then you may be granted RPL for that unit of competency.
After achieving this qualification, graduates may undertake the next qualification up the BSB60720 Advanced Diploma of Program Managementu003c
Additional Information
Please read the Student Handbook prior to enrolment as this contains valuable information about ABM. For further information, please contact ABM by sending an email to:info@abm.edu.au or call us on u tel:61 02 9160 4507 or +61 (02) 9160 4507