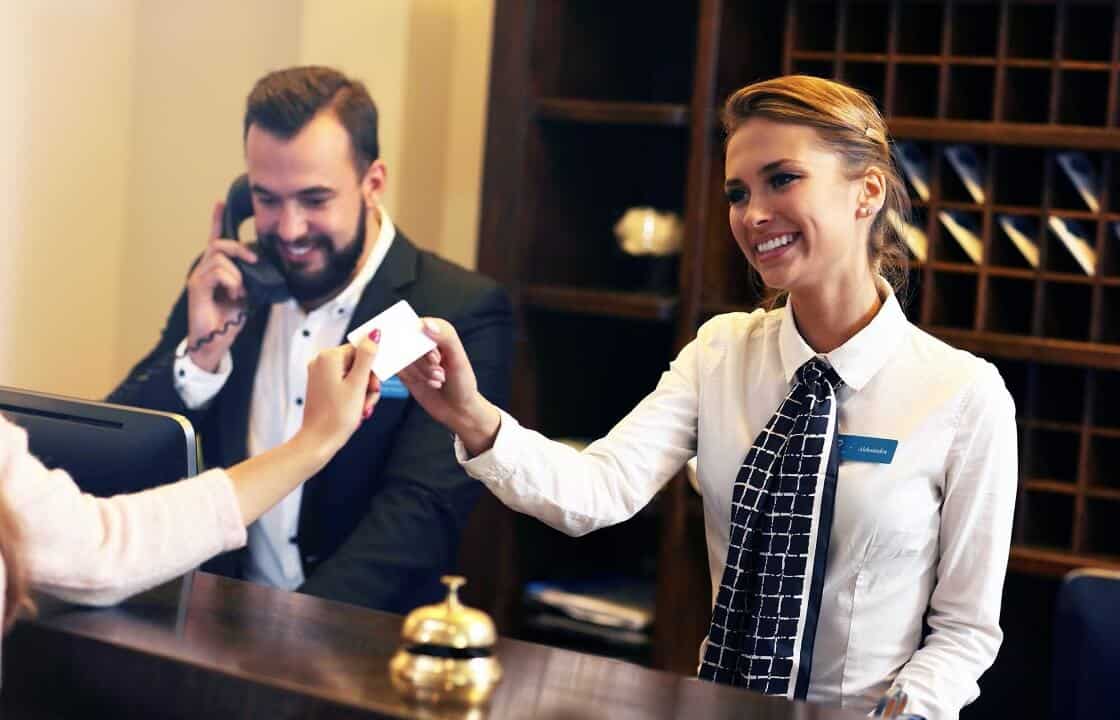 SIT50416 – Diploma of Hospitality Management
CRICOS Course Code: 107909K
Course Outline
Students achieving a Diploma of Hospitality Management will gain the knowledge necessary to be a highly skilled senior operator- bolstering a range of skills required for successful managerial processes and advanced knowledge within their chosen industry. Individuals with a passion for hospitality, with a focus on leadership and managing people are a perfect fit for this course in which they will acquire the skills and knowledge necessary to provide an advanced level of service and managing capabilities.
Students who have achieved a Diploma of Hospitality Management will be able to operate independently and have a large level of responsibility for others. Students will undergo exercises to promote their range of operational business decisions crucial for success within their chosen industry. This qualification provides a pathway to work in a variety of hospitality sectors as a departmental or a small business manager. Individuals with this diploma will have great success utilising it with a diverse range of opportunities ranging from hotels, motels, catering operations, clubs, pubs, cafes and coffee shops.
More information is available via the My Skills Website:
Entry Requirements
Students must be over 18 years of age
Students must have completed an overseas equivalent of Year 12 or higher qualification.
Students must have successfully completed SIT40516 Certificate IV in Commercial Cookery
Students must participate in a course entry interview to determine suitability for the course and student needs
Have an IELTS* score of 5.5 (test results must be no more than 2 years old). English language competence can also be demonstrated through documented evidence of any of the following:

Educated for 5 years in an English-speaking country; or
Completed at least 6 months of a Certificate IV level course in an Australian RTO; or
Successful completion of an English Placement Test
Successful completion of an English course with exit level equivalent to IELTS overall 5.5 from one of our English Pathway Partners
*Note that other English language tests such as PTE and TOEFL can be accepted. Students are required to provide their results so that it can be confirmed they are equivalent to IELTS 5.5.
Entry Restrictions
Students must be 18 years of age at the time of enrolment.
The Diploma of Hospitality Management is offered over 24 months, equating to 104 weeks, including 24 weeks holidays. This will be split into eight 10-week terms. You will receive an orientation from your trainer within one week of your enrolment.
Code

Title

Core or Elective

BSBDIV501

Manage diversity in the workplace

Core

 

BSBMGT517

Manage operational plan

Core

SITXCCS007

Enhance customer service experiences

Core 

SITXCCS008

Develop and manage quality customer service practices

Core 

SITXCOM005

Manage conflict

Core

SITXFIN003

Manage finances within a budget

Core

SITXFIN004

Prepare and monitor budgets

Core

SITXGLC001

Research and comply with regulatory requirements

Core

SITXHRM002

Roster staff

Core

SITXHRM003 

Lead and manage people

Core

SITXMGT001

Monitor work operations

Core

SITXMGT002

Establish and conduct business relationships

Core

SITXWHS003

Implement and monitor work health and safety practices

Core

SITXFSA001

Use hygienic practices for food safety

Elective

SITHKOP005

Coordinate cooking operations

Elective

SITHCCC013

Prepare seafood dishes*

Elective

SITHCCC014

Prepare meat dishes*

Elective

SITHPAT006

Produce desserts*

Elective

SITHCCC019

Produce cakes, pastries and breads*

Elective

BSBCMM401

Make a presentation

Elective

BSBITU306

Design and produce business documents

Elective
| | | |
| --- | --- | --- |
| Code | Title | Core or Elective |
| SITXWHS002 | Identify hazards, assess and control safety risks | Elective |
| BSBWOR203 | Work effectively with others | Elective |
| SITXCCS006 | Provide service to customers | Elective |
| SITXHRM001 | Coach others in job skills | Elective |
| SITHIND002 | Source and use information on the hospitality industry | Elective |
| BSBSUS401 | Implement and monitor environmentally sustainable work practices | Elective |
| BSBFIA401 | Prepare financial reports | Elective |
Note: Students who have completed the units in bold will receive credit transfer and will complete all other units in 2 terms as per our schedule for these students.
Total 300 hours work placement is required.
Work Placement
The table below outlines how the shift requirements (and hours) have been allocated:
| | | |
| --- | --- | --- |
| Unit name | Unit requirements | Total hours allocated |
| SITHCCC021 | 8 service periods | 32 |
| SITHCCC022 | 7 service periods | 28 |
| SITXCCS008 Develop and manage quality customer service | 6 service periods | 24 |
| SITHKOP005 Coordinate cooking operations | 18 service periods | 72 |
| SITHCCC003 | 9 service periods | 36 |
| SITHCCC001 | 9 service periods | 36 |
| SITHFAB005 | 11 service periods | 44 |
| SITHCCC004 | 7 service periods | 28 |
| Total | 75 service periods | 300 |
ABM will ensure students have access to a range of resources as required in the units and training package however students will be required to have access to their own computers (including software programs such as Microsoft Office), printers, internet facilities, and stationery resources. Students will also be required to bring their own device to each session ensuring it has connectivity to the internet.
Assessment is competency based. Students are required to complete written and practical tasks, which reflect the requirements of the units of competency and current workplace practices. Assessment is continuous throughout the duration of the course.
Completed and submitted work will be assessed within ten (10) working days and feedback provided to the student as soon as possible thereafter. Where the student's work is assessed to be not yet satisfactory, he/she will be provided with additional advice, coaching or tutoring and the opportunity to re-submit the work with a view to having it assessed as satisfactory.
Feedback and information regarding the student's competency, progress and study will be provided by the facilitator on a regular and ongoing basis. Ongoing support is also available to all learners and will be provided as soon as a need is identified.
Total number of units of competency (subjects) required to receive this qualification is 28, comprising of 15 core units and 13 elective units. These are listed under Course Structure.
The majority of components for this course, delivery and assessment, will be delivered during the course however learners are required to continue their study off site to ensure they gain a comprehensive understanding of the topic within each unit of competency.
Students are expected to spend 30 hours per unit, studying off site.
Students obtaining a 'competent' result for all listed competencies will be issued, by ABM, a nationally recognised award for the Diploma of Hospitality Management.
ABM will issue the Certification within 30 days of the student being deemed competent in all units they are enrolled in. Students, who do not complete the required 28 units of competency to achieve the Diploma, will receive a Statement of Attainment for those units that they have successfully completed.
To maximise the chance of students successfully completing their training, ABM will identify any support individual students need prior to their enrolment and provide access to that support throughout their training. This will be done using both the Enrolment Form, and a Pre-Enrolment Form, that students are required to fill in.
The aim of both documents is to provide any support that may be required. This could include:
Language, Literacy and Numeracy (LLN) support
Assistive Technology
Additional Tutorials, and / or
Other mechanisms, such as assistance in using technology for online delivery components.
Where this support attracts an additional cost to the student, ABM will make this clear prior to accepting the student's enrolment. If there are limitations to the support ABM is able to provide, these limitations will be made clear in information provided to a potential student.
Where ABM identifies required support, such as literacy or numeracy, English or other language barriers or physical capabilities, and it cannot provide such support directly, it will refer the student to a third party. The costs of such third-party support will the responsibility of the individual.
Where ABM is not capable of offering an environment suitable for the needs of a student with specific identified needs, it will inform them accordingly and may direct the student to a provider that can, and thus will not process their enrolment.
Total Course Fee
AUD $25,300 comprising
Enrolment Fee
AUD$250.00 (non-refundable)
Student Resources
textbooks and printed notes
AUD$1,050.00
Tuition Fees
AUD$24,000.00
Payment schedule
On enrolment: Applicants are required to pay $250 non-refundable enrolment fee + $1,050 resource + $1,000 tuition fee = Total $2,300.
During the course: 11 subsequent payments of $1,000 will be made at monthly intervals.
Banquet or function manager
Chef de cuisine
It is important that you inform and advise ABM, prior to enrolment, about any existing skills and prior knowledge and education, to ensure they can provide you with the appropriate structure and support during the course.
Credit Transfer and Recognition of prior learning (RPL)
Credit transfer is available for completed past studies in areas related to the qualification that participants plan to enrol in. Participants are advised of the process of applying for credit transfer and assisted by the Trainer / Assessor to apply.
Candidates who believe they have already obtained current skills and knowledge that would otherwise be covered in the qualification / unit of competence for which they intend to attain, but have no formal prior learning, should apply for RPL at the time of enrolment. The candidate's skills and knowledge will be assessed and validated, and where appropriate, units of competency acknowledged, and face-to-face training reduced.
The recognition of prior learning procedure will be made known to you at the time of enrolment. If you can demonstrate competency through provision of sufficient, current, valid and authentic evidence of work experience, life skills, and study or via other evidence, then you may be granted RPL for that unit of competency.
After achieving this qualification, graduates may undertake the next qualification up the SIT60316 Advanced Diploma of Hospitality Management.
Additional Information
Please read the Student Handbook prior to enrolment as this contains valuable information about ABM. For further information, please contact ABM by sending an email to info@abm.edu.au or call us on +61 (02) 9160 4507.